Rolly Homes
We buy houses in far North Houston, Spring, Tomball, The Woodlands or Conroe. We fix them up, and in most cases, we rent them out. >>> VIEW MAP <<<
"Sell Your House For Cash, Regardless of Condition"
Good, bad or ugly, it does not matter, we like a challange. Did you know that you can sell your house and have a check in your hand within 10 days? See How It Works page.
Rolly pays CASH!
What does "CASH" mean? It's not a briefcase full of banded $100 bills. In Real Estate cash means that the buyer can wire funds to the title company within a day. So unlike buyers who are financed, a cash buyer can close very quickly. Buyers who are financed, meaning most buyers, have to get approved for the loan. That approval process is called underwriting and takes many weeks, with no guarantee of approval. So even having a contract with a pre-qualified buyer is no guarantee that the sale will close. When selling to a cash buyer, the only hurdle to closing it having clean title to the property. See Sell It Fast page for other common questions and answers.
"Rolly Homes is the real buyer, we are NOT a wholesaler."
If you contract to sell your house to Rolly Homes, your selling to Rolly, not a wholesaler looking to flip the sale. Many of the "We Buy Houses" signs you see are really just wholesalers. They want to get your house under contract, then turn around and sell the contract, at a higher price, to end buyers like us.
"Just who is Rolly Homes?"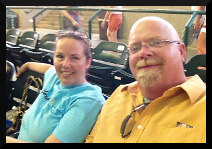 My name is Robin. My wife of 25 years, Sally, and I began buying houses several years ago. We formed the company Rolly Homes to purchase, renovate, and lease houses.
In fact our motto is "Turning Houses into Homes".
We pay cash for houses in any condition and any area of The Woodlands, Spring, Conroe or Cypress areas.
Don't worry about spending lots of money and time on cleaning and repairing the house yourself. We will buy the house "as is".
We buy houses in Far North Houston, Spring, Conroe and Cypress areas and can close quickly for your convenience, within 10 days if necessary.
Take a look at the Where We Buy page for a map.